Sathorn, a vibrant neighborhood in Bangkok, is a not-so-hidden gem for Italian cuisine. One of the remarkable aspects of Sathorn's Italian restaurant scene is the diverse range of flavors and culinary experiences it offers. Whether you're in the mood for classic Italian dishes like pasta and pizza or seeking more innovative and contemporary interpretations, Sathorn has something to suit every palate.
When you stay at Amanta Hotel and Residence in Sathorn, Bangkok – enjoy easy access to the plethora of Italian restaurants that dot the neighborhood. Read on to learn more about our crowd-favorite recommendations.
La Casa Nostra
Situated on Sathorn's quaint Soi Goethe, this Italian restaurant is housed in a stately old home and has garnered a loyal following. Known for its relaxed ambiance, exceptional wine selection, and polished yet rustic dishes, it offers a comforting array of cold cuts, pastas, and grilled meats. Specialties inspired by the chef's Sicilian roots add subtle flavors to the menu, with standout dishes like fresh ricotta and spinach gnocchi in a delightful tomato sauce and perfectly seasoned Australian lamb chops served with sweet potato mash, yogurt, and salsa verde. With its charming setting and delectable offerings, this Italian gem promises an unforgettable dining experience.
La Scala
La Scala, named after Milan's famous opera house, is a long-standing veteran in the Sathorn dining scene. Their open kitchen with a fancy Italian marble pizza oven has seen some truly talented chefs showcasing their skills. With over 80% of the ingredients sourced directly from Italy, it's no wonder their tasting menu, available in 4, 5, or 7 courses, is a culinary adventure worth embarking on. The pasta, pizzas, and homemade breads are simply outstanding.
Make sure you catch their crowd-favorite showstopper: the schiacciatina pizza. This thin-crust pizza sandwich, adorned with Parma ham, rocket salad, and mascarpone cheese, is a flavor explosion that will make your taste buds sing. And if you're up for an indulgent delight, don't forget to try their heavenly 24-month "Riserva" Parma ham with buffalo mozzarella campania—a gooey, creamy masterpiece you won't want to miss.
Via Emilia Italian Restaurant
When thoughts of Emilia Romagna dance in your mind, the exquisite flavors of Parmigiano Reggiano, balsamic vinegar from Modena, and prosciutto di Parma should all take center stage. At Via Emilia, these iconic delicacies from the region are not mere ingredients but stars that shine throughout their enticing menu, ensuring a gastronomic experience to remember.
Begin your culinary journey with the delightful Piadina, a heavenly rendition of a soft cheese sandwich inspired by the streets of Rimini. It sets the stage for the extraordinary dishes that follow. For the main course, prepare to be wowed by the Cotoletta Alla Petroniana. This generously breaded veal chop is elevated to new heights with a topping of premium Parma ham and fragrant parmigiano cheese, leaving you yearning for more.
Giglio Trattoria Fiorentina
As you enter the enchanting Giglio, you'll be whisked away to a charming trattoria reminiscent of Florence's bustling culinary scene. The intimate and welcoming interiors of this Italian restaurant in Silom will transport you to the heart of Tuscany, offering a rare opportunity to savor the region's authentic flavors.
Embark on your gastronomic journey with a beloved dish called Tonno del Chianti. And don't miss the chance to indulge in their hand-rolled pici pasta with a tantalizing sausage and porcini ragu—an absolute favorite among Giglio's devoted patrons.
To elevate your dining experience, Giglio curates a selection of fine wines sourced from this renowned region. From refreshing rosés to bold reds, these wines beautifully complement the exquisite dishes, ensuring a harmonious pairing that will leave your taste buds rejoicing.
Experience the epitome of convenience and luxury at Amanta Hotel and Residence. Nestled in the heart of Bangkok, our extraordinary hotel in Sathorn is a stone's throw from the train station, with access to readily available modes of transportation at all times. Our state-of-the-art facilities and prime location amidst a vibrant Italian dining scene cater to the discerning traveler seeking comfort and indulgence. And it's not just about food – Sathorn is also home to numerous shopping malls and cultural landmarks, providing endless entertainment options for our guests.
Our spacious and elegant apartments offer a haven of tranquility, while our co-dining space on the 8th floor treats you to breathtaking city views. Immerse yourself in the splendor of our stunning pool, where the city skyline serves as a magnificent backdrop. Maintain your fitness regime at our fully equipped fitness center. As our esteemed guest, you will relish access to a host of amenities that elevate your stay to new heights.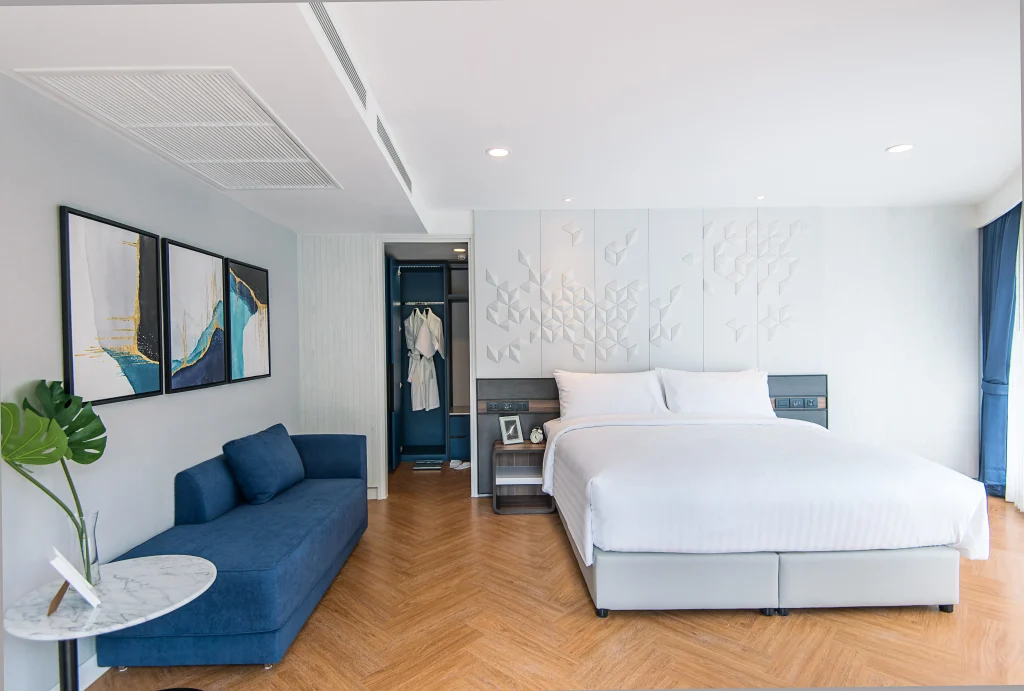 Whether you're a food enthusiast or simply looking to savor the finest Italian delicacies, our prime location and exceptional amenities will ensure an unforgettable experience. Book your stay at Amanta Hotel and Residence in Sathorn today!