Savoring a Chinese hotpot is one activity not to be missed when you stay at our hotel in Ratchada. The communal dining experience has gained much popularity in Thailand over the years, and it attracts a strong following from locals and tourists alike. Everyone seems to delight in the activity of cooking raw ingredients over a simmering pot of broth at the center of the table while enjoying the company of friends and family. This has led to several Chinese hotpot establishments sprouting up in Bangkok's Huaykwang and Ratchada areas in particular.
Origin of the Chinese Hotpot
The Chinese hotpot originated in Mongolia more than 1,000 years ago. It was a way for people to gather in the evenings to keep the freezing cold at bay. Over time, this method of communal dining was adopted in other regions of China, where it picked up unique regional flavors and variations as it evolved. This has led to the many different Chinese hotpot styles we enjoy today. You can choose from Sichuan, Cantonese, and Beijing-style hotpots, each bringing its own distinctive flavors and ingredients.
Ratchada's Chinese Hotpot Options
Ratchada is a popular district in Bangkok for many activities; with numerous shopping malls, upscale restaurants and wine bars, this lively district has it all. The Chinese hotpot scene is no different, and you can find several establishments offering this unique cuisine in its many different styles. A number of them are located close to our hotel in Ratchada:
Haidilao
Address: Central Rama 9 (7th Fl, #704), Huai Khwang, Bangkok 10310
Haidilao is one of the world's most successful and recognizable Chinese hotpot chains. Originating from China, the restaurant is known for its exceptional service and quality ingredients. And for those who love their sauces, one of Haidilao's signature features is the mind-boggling array of ingredients and sauces on offer for you to create your own unique blends. You can choose a variety of broths, meats, and vegetables for that perfect hotpot meal. Plus, at Haidilao, you can always expect a few surprises along the way!
Chaozhou
Address: 230 Ratchadaphisek Rd, Huai Khwang, Bangkok 10320
Chaozhou specializes in Teochew-style hotpot, which is lighter and more delicate than its spicy Sichuan counterpart. At Chaozhou, you can savor a variety of fresh seafood and other ingredients in a soothing, clear broth. This restaurant is perfect for those who prefer a milder taste.
Eight Bean
Address: Soi Sucharit Subdistrict, Huai Khwang, Bangkok 10310
This contemporary hotpot restaurant's unique concept is that it features eight individual hotpot stations, which allow you to customize your hotpot experience. You can choose from various broths, ingredients, and dipping sauces to create your perfect meal. This modern and stylish restaurant is the perfect choice for your first hotpot experience as you can sample many different styles in one sitting.
Hong Kong May
Address: 617/1 Ratchada Niwet Road, Samsen Nok, Huai Khwang, Bangkok 10310
Hong Kong May's Cantonese-style provides premium ingredients for you to cook in various broths. The restaurant's spacious and elegant interior creates a comfortable ambiance to enjoy your hotpot cuisine. One of the signature offerings at this restaurant is its seafood platter which features an assortment of fresh seafood perfect for a delicious hotpot feast.
CQK
Address: 16/2 Thiam Ruam Mit Rd, Huai Khwang, Bangkok 10310
This cozy and charming little restaurant specializes in the spicy Sichuan-style hotpot that is not for the faint-hearted. The broths here are packed with flavor and spicy enough to make you cry. It's the perfect place for foodies with a penchant for bold flavors. The menu features an extensive selection of fresh ingredients, including meats, vegetables, and seafood. If you're staying at our hotel in Ratchada, this restaurant is a must-try!
Tips for Hotpot First-Timers
If you're new to the Chinese hotpot experience, here are some useful tips to help you get started:
Start by choosing your preferred broth. For more variety, opt for the split pot. This allows you to try two different broths at once.
Don't be afraid to try something new! The range of ingredients can be overwhelming, but it's the perfect chance to try everything all at once.
Cook each ingredient in the hotpot according to their recommended cooking times. Thinly sliced meats and leaf vegetables cook quickly, while root vegetables and thicker cuts of meat take longer.
Make use of the endless selection of sauces at the sauce bar. Experiment with different sauces to find the perfect combination for your palate.
Amanta Hotel & Residence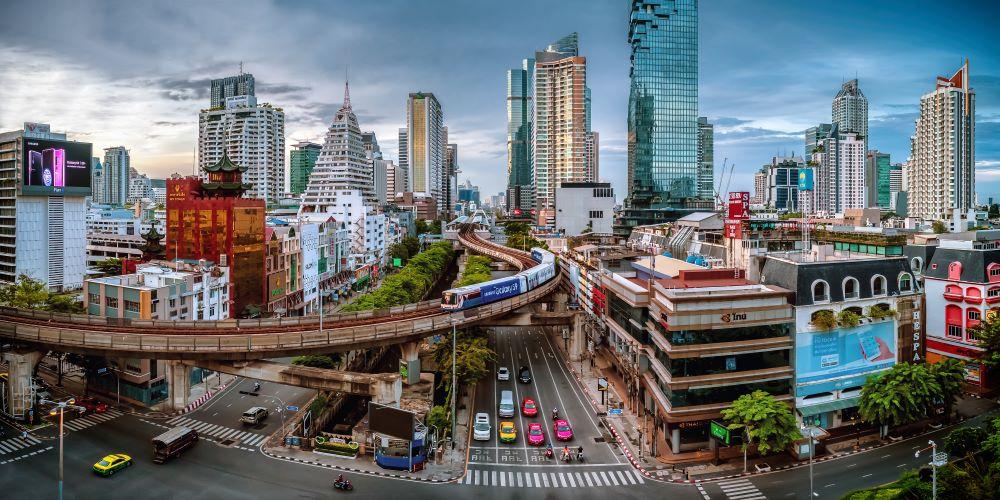 Our hotel is the perfect location for you to experience Bangkok. With easy access to transport links, shopping malls, and a plethora of dining options, including the delicious Chinese hotpot restaurants mentioned above, you will be able to explore everything Bangkok has to offer.
We provide a range of accommodation options, from studio apartments to spacious two-bedroom suites, to ensure a comfortable stay for all types of travelers. Our hotel features top-notch facilities like a fitness center, swimming pool, and sauna. Book a stay with us at Amanta Hotel & Residence Ratchada today and discover the vibrant Ratchada district just minutes from our door!