Most travelers in Bangkok for a few days to a week are perfectly comfortable in a single room. But after more than a week, it can seem like the room is steadily shrinking. Business and pleasure travelers in town for a longer period of time start to long for a more luxurious space. They also tend to miss cooking for themselves and don't enjoy having to send their clothes out to be cleaned and ironed.
At Amanta Hotel & Residences Ratchada, we specialize in providing accommodations to suit the long-term traveler. We offer five different types of hotel rooms that each provide the comfort long-term travelers desire.
Junior Suite
Our selection of suites starts with the Junior Suite. Featuring an open living space design with contemporary décor, this 69 sqm suite is bright and airy. Single businesspeople visiting Bangkok for work appreciate the spacious living area and the economical luxury and comfort this suite provides.
Comforts include a full kitchenette with a large refrigerator, a separate bathtub and shower, and a combination washer and dryer. Your Ratchada accommodation also includes a private balcony where you can relax with a cold beverage at the end of a busy day or stretch out on a large sectional sofa and watch a program on the large, flat-screen cable TV.
Deluxe Suite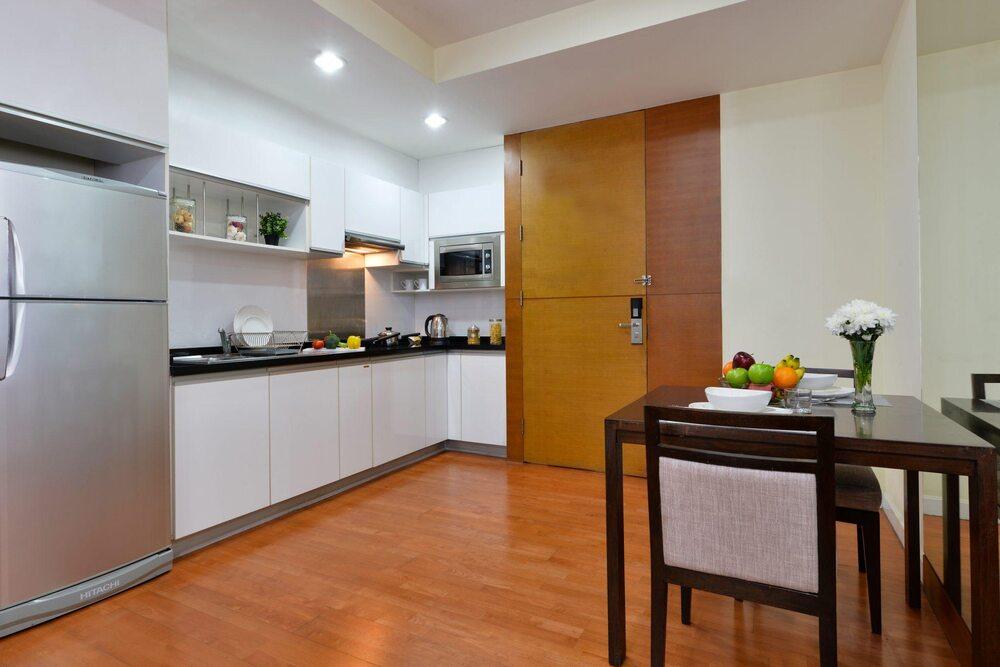 Our one-bedroom, 54 sqm Deluxe Suite will feel more like a spacious apartment than a hotel room. The suite features a walk-in closet next to the spacious bathroom with a separate bathtub and shower. It also offers a wide-screen TV in the bedroom and living room. This is the ideal accommodation for couples or those in town for a week or more.
The bedroom features a luxuriously comfortable king-sized bed, and the large terrace off the living room offers a view of the pool or city. Suites at Amanta Hotel and Residences Ratchada also come with high-speed Wifi, an electronic safe box, and 24-hour security throughout the hotel grounds. The suite provides the perfect personal space and privacy for a couple enjoying an extended stay in Bangkok.
Executive Suite
Businesspeople are often required to entertain and work from wherever they're staying when they visit a city. Our Executive Suite provides plenty of luxurious space and comfort, so you can warmly welcome business colleagues and guests into your spacious, temporary home. The large living area with hardwood floors and the terrace provide ample room for entertaining, and the dining area seats four for work dinners or impromptu meetings.
The roomy walk-in closet keeps your business clothes neat and presentable, and the separate laundry room with a combination washer and dryer ensures you'll always look your best for presentations and meetings. The suite also features an extended entry area that provides extra storage space. The Executive Suite provides the ultimate spacious, one-bedroom accommodation in Ratchada.
Royal Suite
The two-bedroom, 79 sqm Royal Suite at Amanta Hotel & Residences Ratchada, provides plenty of bright and airy space with floor-to-ceiling windows in the living area and both bedrooms. It has ample closet room off of both bedrooms, and the bedrooms have separate showers, with a bathtub in the main bedroom. The central, open-plan living, dining, and kitchen area is located between the two bedrooms, offering an extra level of privacy.
This is the perfect accommodation for two businesspeople who want to reduce expenses while maintaining a high quality of living, or a small family in Bangkok for an extended sightseeing trip.
Grand Suite
The 96 sqm, two-bedroom Grand Suite is our largest and finest accommodation. The two large bedrooms with king-sized beds are separated by the extensive living, dining and kitchen areas. Both bedrooms feature extensive closet space. The main bedroom and the living area have a large, wall-mounted, wide-screen cable TV.
This accommodation is designed for luxurious comfort. The large terrace off the living area is a great place to unwind at the end of the day. The kitchen area offers a long counter space with plenty of room for whipping up your favorite dishes from home. The table in the dining area seats four and provides the perfect setting for family dining away from home.
Dedicated desks in both bedrooms mean this is also an ideal accommodation for two business people on an extended visit to a Bangkok office.
Book a Suite at Amanta Hotel & Residences Ratchada
The Ratchada area of Bangkok is growing and offers convenient access to the Airport Express with a direct service to Suvarnabhumi Airport. The MRT also has several stations along Ratchada Road and is one of the fastest ways to reach Bangkok's business district, as well as many of the city's most famous and popular attractions.
Before booking a long-term room in Bangkok, check out the spacious suites with kitchens, living areas, and terraces at Amanta Hotel & Residences Ratchada.