Bangkok is the most visited city in the world, and for good reason. It can be highly fulfilling to stay right at the center of the city at a Sathorn Hotel in Bangkok. With how large and populous this metropolis is, it seems as though there's always something new around the corner and always something unique to see. Whether you're looking for nightlife, tourist attractions, shopping malls, or restaurants, it certainly feels like there's never an end to what the city has to offer.
After a certain amount of time however with a long stay in a hotel in Bangkok, it can begin to feel like you've already seen all there is to see in this thriving city. This couldn't be further from the truth. Once you're done seeing Siam Paragon, Khao San, the Grand Palace, various temples, and much more, it's time to see what lesser-known attractions and unique spots are in this beautiful and bustling city.
Sathorn Unique Tower
While this tower is not strictly an attraction since the building is technically off-limits to visitors, it is easy to notice this tower's unique silhouette in the Bangkok skyline by the river, most notably because the building is completely abandoned. As one of the world's largest abandoned buildings, it has attracted countless urban explorers and tourists who want to explore the vast, dilapidated and ruined interior.
The building is an unfinished skyscraper that had been planned as a high-rise condominium complex, however, construction of the building was halted during the 1997 Asian financial crisis resulting in the building's current unfinished state. Certainly a unique sight in such a modern and developed city, the Sathorn Unique Tower provides an interesting contrast to the various other skyscrapers standing tall.
Wat Mahabut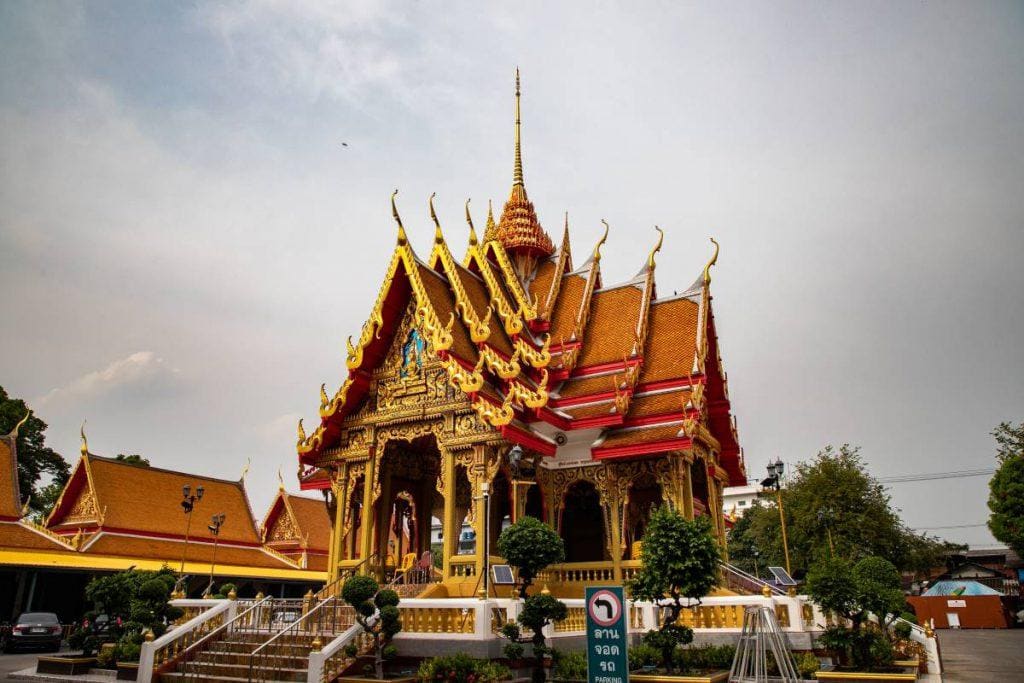 Unlike most of the other temples in Bangkok, Wat Mahabut is not well-known for its history or architecture but rather, it is famous for a ghost. Mae Nak is one of Thailand's most famous ghosts, and her story is well-known throughout Thailand and has even been made into several movies.
The story is that Mae Nak was married to Mak, who is conscripted for military service during a war and has to leave home. While he is away, Mae Nak dies during childbirth and is buried by her neighbours. When Mak returns, his neighbours try to warn him of what has occurred but they meet an unceremonious end. Mak lives with Mae Nak until he eventually discovers that he is living with a ghost and flees and seeks refuge in Wat Mahabut. Finally, after several attempts by the villagers, she is exorcised to return to a peaceful end.
This temple has a shrine dedicated to Mae Nak, and the community has accepted Mae Nak as their benefactor. Wat Mahabut can be reached by river boat from the Phra Khanong Bridge Pier to the Wat Mahabut pier or by road along Soi Sukhumvit 77 to Soi On Nut 7.
The Human Body Museum
This museum is located right on the grounds of Chulalongkorn University, at the Faculty of Dentistry. While this museum may be slightly creepy, it is also highly educational as there are 14 well-preserved dissected bodies available to see as well as internal organs that have been donated to the museum.
The museum is separated into two rooms, with each one displaying bodies that have been cut open to show internal organs as well as other systems of the human, including the nervous system and the digestive system. A detailed outlook of the plastination process is given out, showing how liquid polymer is used to preserve human tissue and thus, keep the bodies intact within the museum.
While this museum may be slightly disturbing to some, it nevertheless provides a detailed and comprehensive view of the way the human body works.
Sriraj Medical Museum
Nicknamed the Museum of Death, this museum consists of seven small medical museums each showing a different subject matter related to medicine. The Ellis Pathological Museum showcases the top killers of Thai people, diseases such as heart disease, cancer, and other various diseases. The Congdon Anatomical Museum has a collection of more than 2000 organs available for anatomical education.
The Parasitology Museum is particularly famous for its collection of parasites from patients, featuring a range of parasites from protozoa to meter-long flatworms. There are many more museums within this larger museum, each of them showing a unique aspect of the human body and how bizarre and unsettling medical situations can be.
All of these excellent attractions and tourist spots can be travelled to and visited from Amanta Hotel and Residence, located right in the heart of the Sathorn District. If you're enjoying a long stay in the city of Bangkok, it can be highly fulfilling to visit all the lesser-known attractions of the city and get an additional taste of what the city of Bangkok has to offer.