Bangkok is a superbly colorful city. There are many famous and interesting areas to visit, such as Khaosan Road Silom Road which are equally famous among Thai and foreign visitors alike Another very interesting area in Bangkok is Ratchada area, which is the location for many leading department stores, entertainment venues, restaurants, night markets, massage shops, and many excellent cafes.
Ratchada area is considered the "New Central Business District" or New CBD of Bangkok because there are many interesting places whether it is educational institutions, hospitals, sports complexes, office buildings, as well as many leading and well-known department stores. This is truly a special area and an ultimate answer to every lifestyle needs; whether it's eating, drinking, or sightseeing. This is one of the most popular areas for both Thai locals and tourists. This is partly because there are so many things to see and do for the whole day and exploring the area is also very easy. You can do it on foot, by car, or use the mass rapid transit system or the MRT, as it is locally known. It is clear that the Ratchada area is rapidly developing. And it will be even more so in the future. Now, let's dive into some of the most interesting things to see and do in this area.
Best landmarks in Ratchada
Esplanade Ratchadapisek
Esplanade Ratchadapisek is a 6-floor department store, with one basement floor. This is where every kind of entertainment is congregated, especially for Esplanade Cineplex. There are a total of 12 cinemas, which are divided into both movie cinemas for the normal movie-goers and specialized cinemas for E-sport such as "Dell Gaming E-sport Cinema" as well
Another unique point of this department store is the fact that it is the location of Muangthai Ratchadalai Theatre which is located on the 4th floor and has a capacity of 1,524 sets. It is used for theatrical performances, concerts, shows, as well as for conferences. People who love theater will know this place very well. Apart from the cinemas and the theaters, on other floors of the department store, there are also plenty of restaurants, fitness center, bookshops, and many clothing stores Visitors can also walk to the Ratchada Train Night Market via the ground floor of the department store as well.
Fortune Town
Fortune Town is both a department store, an office building a hotel, and an IT center. This is because the Fortune Town positions itself as a technology hub; thus, on the inside, there are many shops selling a plenitude of computer gadgets, cameras, all kinds of mobile phones and many other gadgets such as headphones, games, programs For those looking for an IT gadget, Fortune Town is certainly a place NOT to be missed.
Central Plaza Grand Rama 9
Central Plaza Grand Rama 9 is a department store directly opposite Fortune Town It is both a department store and an office building There are many famous restaurants many whether Thai Japanese or Western dishes There are also supermarkets, brand name shops, bookshops, IT gadgets stores, as well as cinemas and amusement park "Fun Planet" for children. especially
The Street Ratchada
This department store opens 24 hours a day thus, there are many restaurants and cafes that also open 24 hours a day as well. It sure will please every night owl. What's more, it is also a place for all kinds of fashion items clothes, shoes, and also a huge nail salon supply store beauty clinics, beauty salons. There are also fitness center, dance studio, board game cafes, and co-working space. For those who want to relax and enjoy a book, there are also many places to sit such as on the terrace outside of the 3rd floor
One of the most interesting highlights at the Street Ratchada is Bounce Thailand, which is a massive indoor trampoline park from Australia. There are many different zones inside to try out the trampoline as well as a 3D hiking area for folks that are into "the Survivors"
Other entertainment areas Ratchada area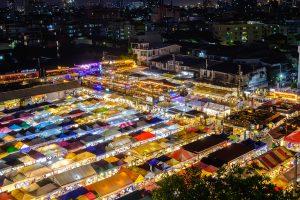 Jodd Fairs Market
Those who love browsing and shopping in an open air market should not miss Jodd Fairs Market This is a vintage outdoor night market It is divided into many zones such as restaurant zone with many street food vendors clothing zone with vendors selling all kinds of fashion items clothes apparels bags accessories and much more Cactuses are also sold in the market Another zone is for chill-out bars and restaurants You can drink listen to live music It is a very nice atmosphere It is also very easy to access with its location right behind Esplanade Ratchadapisek
Massage shops
One of the most popular activities among foreigners visiting Thailand is getting a Thai massage In Ratchada area, there are many Thai massage shops such as Lemongrass Spa Bangkok and Let's Relax Spa; each comes with Thai style decors that helps create a relaxing atmosphere and soothe body aches and pains from traveling and sightseeing all day long
Nice cafes
Ratchada area is not only famous for its department stores, as there are many nice and atmospheric cafes doting the area. Our recommendation is Laliette Cake Cafe, close to MRT Ratchadapisek This is a rather small cake shop but the decoration is eye-pleasing, and cool and pleasant with greenery from its many trees and plants Brownish furnitures also inspire a feeling of warmth As for the dessert menu, there are many types of cakes: fruit cakes, chocolate cakes, and refreshing fruit juices or fruit-infused drinks such as strawberry
Ratchada area is the New CBD that is rapidly developing It is a very easy to access area since it sits along the MRT Blue Line and there are many new condominium projects poping up in the area There are also many hotels to cater foreigners from aboard Our recommendation is Amanta Hotel and Residence Ratchada, hotel in Ratchada where you can easily access the MRT Blue Line at the Thailand Cultural Center MRT Station which is located right in front of the hotel The hotel is also very near to department stores in Ratchada area with 5-minute walking distance The hotel also provides airport pick-up services There are many types of rooms both as tone-bed and two-bed suites that come with a kitchenette, dining area, living area, bathroom, and balcony Other facilities include swimming pool, fitness center, restaurants, sauna, meeting room, and parking area.