Bangkok's Songkran water festival is like a Times Square New Year's Eve party that powers on for nearly an entire week.
For hot-season holiday travelers itching for a (water) fight, the first two things you need to know about Thailand's summer celebration known as Songkran are: you're going to have fun, and you're going to get wet.
You've probably heard about Bangkok's famously splash-frenzied street party, and now you want to get better informed about this much-talked-about event. Actually, by the time you breeze through this brief and easy-to-read article in its entirety, you'll know everything you need to get in on the excitement and culture-connecting fun of this epic Bangkok splash-bash.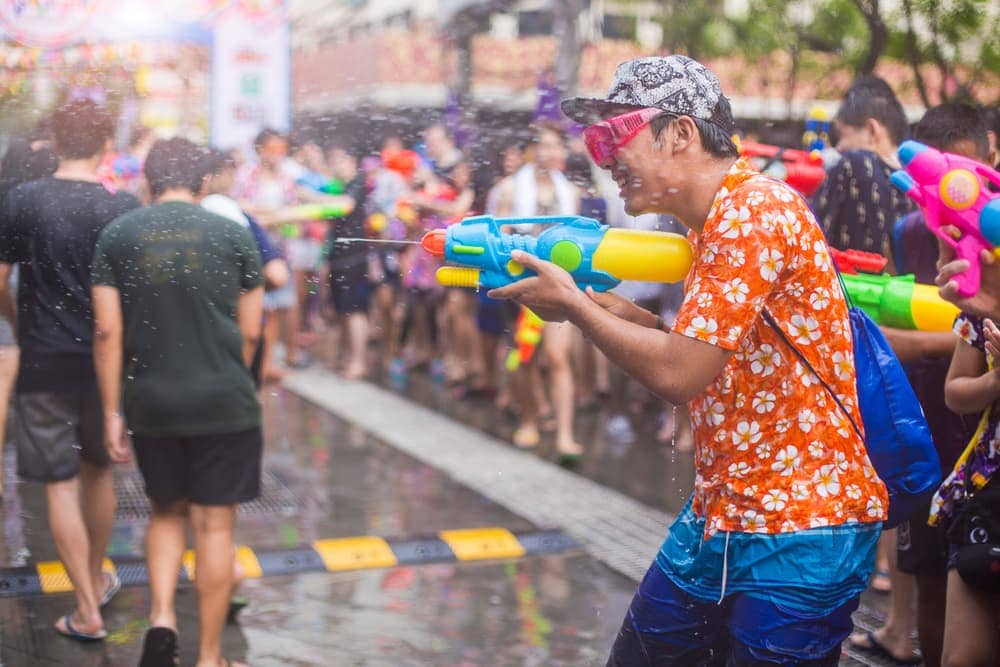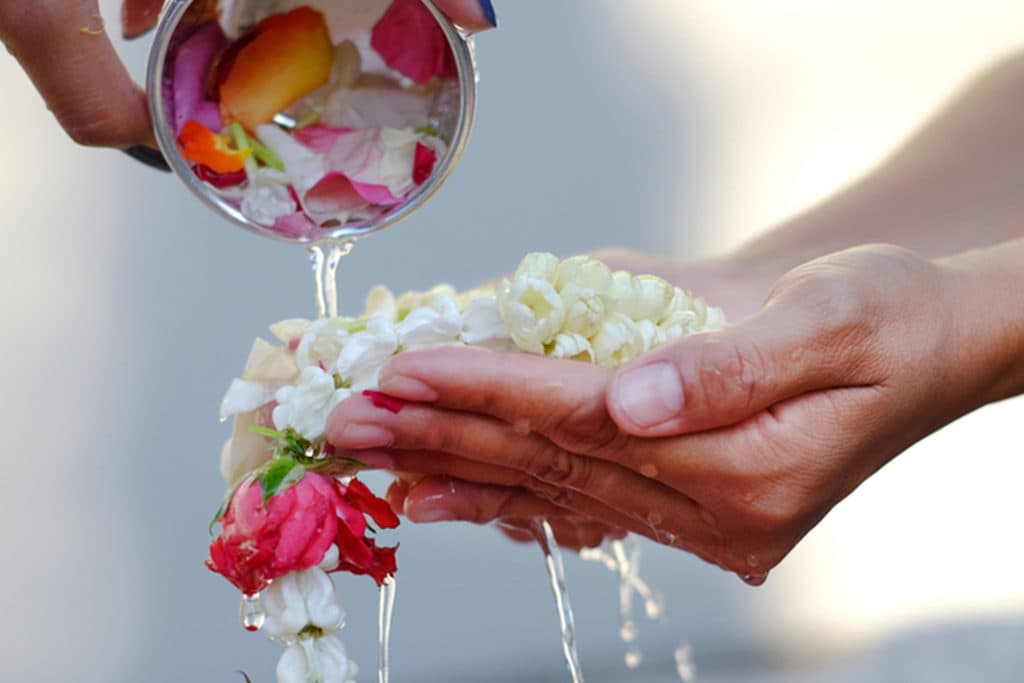 The Big Picture
Songkran is a unique summer holiday experience that takes you back to those summertime water battles of childhood. In fact, taking part in a Bangkok Songkran skirmish is considered a rite of passage for adventure-seeking travelers to the region.
The Backstory
A holiday marking the Thai New Year, traditional Songkran celebrations involved the ritual of gently sprinkling aromatic water over the hands of family elders, but it has now evolved into a big, friendly, nationwide water splashing free-for-all.
Awesome summer vay-cay destination
With its warm climate, solid tourism credentials, and fun-loving vibe, Bangkok is a world-class holiday destination, and Songkran is a major highlight on the city's calendar of festive celebrations. And if you're in the Thai capital in April, the days-long drench-fest is impossible to miss.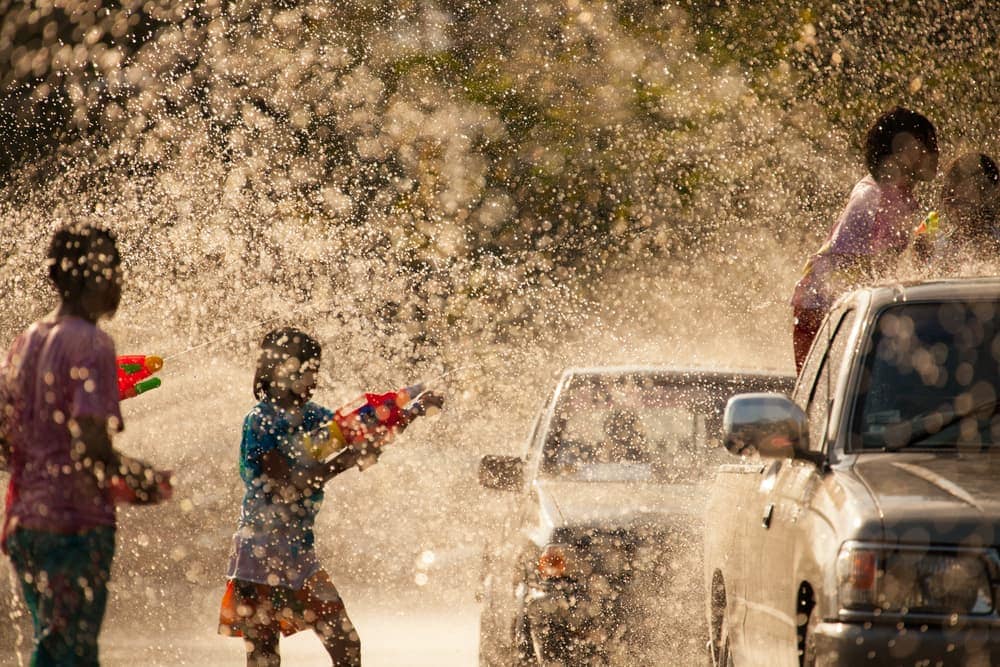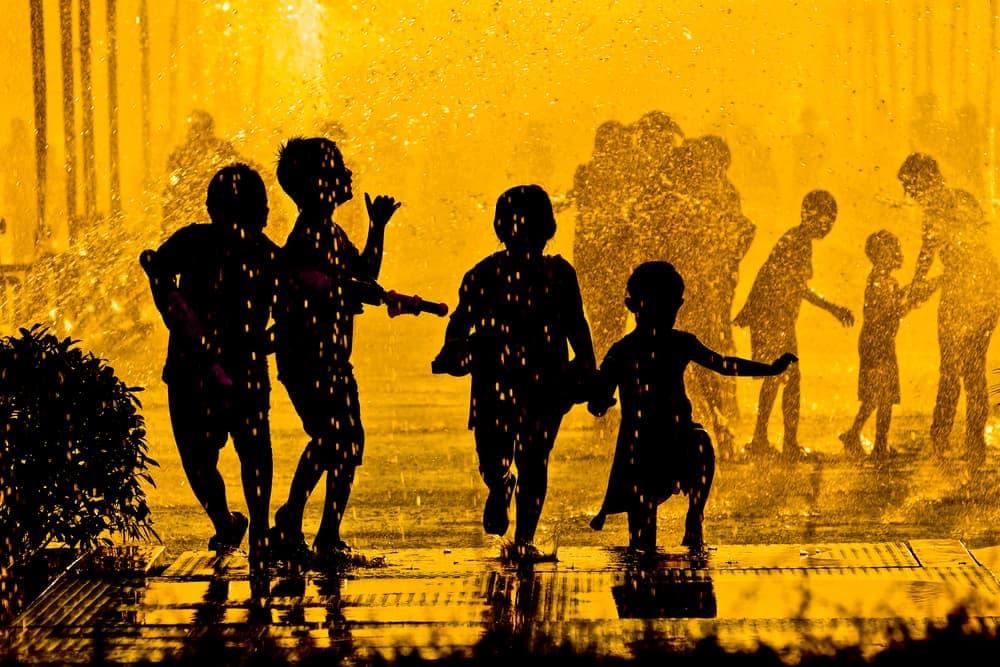 What to expect
To get an idea of the Thai Songkran festival experience, imagine a movie scene depicting a medieval battle involving legions of armored warriors, all fighting it out from every direction in a turbulent sea of thrashing blades. But instead of helmeted knights on horseback, during Bangkok's Songkran fest it's T-shirt-and-shorts-wearing revelers armed not with swords, but with water buckets and squirt guns used for spraying and splashing fellow partiers.
And unlike those fierce historical battles of centuries past, Bangkok's friendly "splash-wars" play out to the sound of laughter, with all "combatants" ending up equally soaked and united in a fellowship of good times.
Essential Songkran Gear
Besides a water gun, there are a few items you should have before heading out into the fray. These include:
Ÿ Protective eye gear such as swimming goggles
Ÿ Waterproof plastic case for wallet and mobile phone
Ÿ Lightweight sports attire, swimsuit underneath
Unofficial Code of Conduct
Despite the wild vibe and widespread revelry that takes place during Songkran, visitors should observe these rules of etiquette:
Ÿ Don't splash Buddhist monks
Ÿ Don't splash bystanders clearly not participating in the action
Ÿ Don't throw water from or at any moving vehicle
Ÿ Always use clean tap water and never use hot water, cold water, or ice
Ÿ Avoid overly revealing attire in accordance with local customs.
Ÿ White clothing should be avoided, especially ladies' tops.
Sabai sabai means relax and enjoy
Inevitably there will be some local Songkran revelers who visitors might view as a bit too enthusiastic, so it's important to remember to always keep your cool and consider the overall celebratory mood and prevailing party-like atmosphere. That said, Songkran participants are advised to just go with the flow –both in terms of festive mood and water spraying. In the unlikely event that any misunderstandings occur, simply smile and say Sawaddee pee mai! (Happy New Year!).
Bangkok's Songkran hotspots
Some of the best places to dive right into the spirit of Songkran are tourist-popular thoroughfares like Sukhumvit Road and Khao San Road. But visitors who want to experience some of the wildest Songkran action in town are directed to Bangkok's Silom Road, the city-center site of a massive soak-'em-up street party that has achieved legendary status in recent years.
But where will I stay?
Your much-anticipated Bangkok holiday will only be as good as the accommodation you choose, and Amanta Hotel and Residence Sathorn is everything a traveler could want in a home-away-from-home. Besides the tastefully minimalist Swedish-style décor, freshly renovated rooms, gold-star service, and excellent value-for-money, the downtown 4-star hotel is ideally located near nightlife zones, parks, shopping, and mass transit. Best of all, you'll be just minutes from Silom Road, putting that popular Songkran street party we mentioned just a short stroll away.
Bangkok's 2020 Songkran festivities run from Monday, April 13th through Wednesday, April 15. Happy splashing and Sawaddee pee mai!