Planning a family vacation can be quite a daunting task, but there are ways to make it easier. One of the key factors that can significantly impact your trip is the hotel you pick. But with so many options available, how do you choose the perfect hotel for your family vacation?
In this blog, we will highlight five essential tips for selecting the ideal family-friendly hotel that will make your vacation a memorable and enjoyable experience for everyone.
Five Tips For Choosing The Perfect Hotel For Your Family
Make Space a Priority
When traveling with your family, comfort is of the utmost importance. Ensure that the hotel you choose offers spacious double rooms or a family suite that provides ample space for everyone. Having enough room to move around and relax can make a huge difference in the quality of your stay. Having separate sleeping and living areas can provide parents and kids with their own space while still being together under one roof.
Keep the Kids Happy With a Pool
Kids love to splash and play in the water, making a hotel pool a fantastic amenity to have. A pool not only keeps the kids entertained throughout the stay but also provides a fun bonding activity for the entire family. It is important to make sure the hotel has a well-maintained pool with safety features in place, such as clearly marked depth indicators, regularly tested water quality, and accessible and functioning life-saving equipment.
Choose The Best Location Based On Your Iterinary
The hotel's location plays a vital role in your overall vacation experience. Choosing a family-friendly hotel that is situated in a great area, close to transportation options, food outlets, and entertainment venues makes it easier to explore the destination and ensures that you're not spending unnecessary time commuting. Having convenient access to local attractions and amenities can save travel time and reduce stress.
Fully Equipped Amenities for Convenience
Choosing a hotel with fully equipped amenities can greatly enhance your family vacation. Some hotels offer features like a kitchenette where you can prepare simple meals or snacks for the kids. Laundry services, including a washing machine, can be a lifesaver, especially if you're traveling with young children. These amenities can help you pack lighter and ensure that you have everything you need to keep your family comfortable during your stay.
Exceptional Service Matters
The level of service provided by hotel staff can significantly impact your vacation experience. Friendly and attentive staff can make you feel welcome and catered to throughout your stay. From offering helpful recommendations to providing assistance with any concerns or needs, excellent service adds that extra layer of comfort and satisfaction to your family getaway.
Introducing Amanta: The Epitome of Family-Friendly Comfort
Now that you have a solid understanding of how to choose a hotel for a family vacation, allow us to introduce you to Amanta Hotel & Residence Sathorn – an exceptional hotel that not only meets these criteria but exceeds them, creating a truly unforgettable vacation. Amanta Sathorn is a haven for families seeking the perfect blend of comfort, convenience, and entertainment.
Accomodations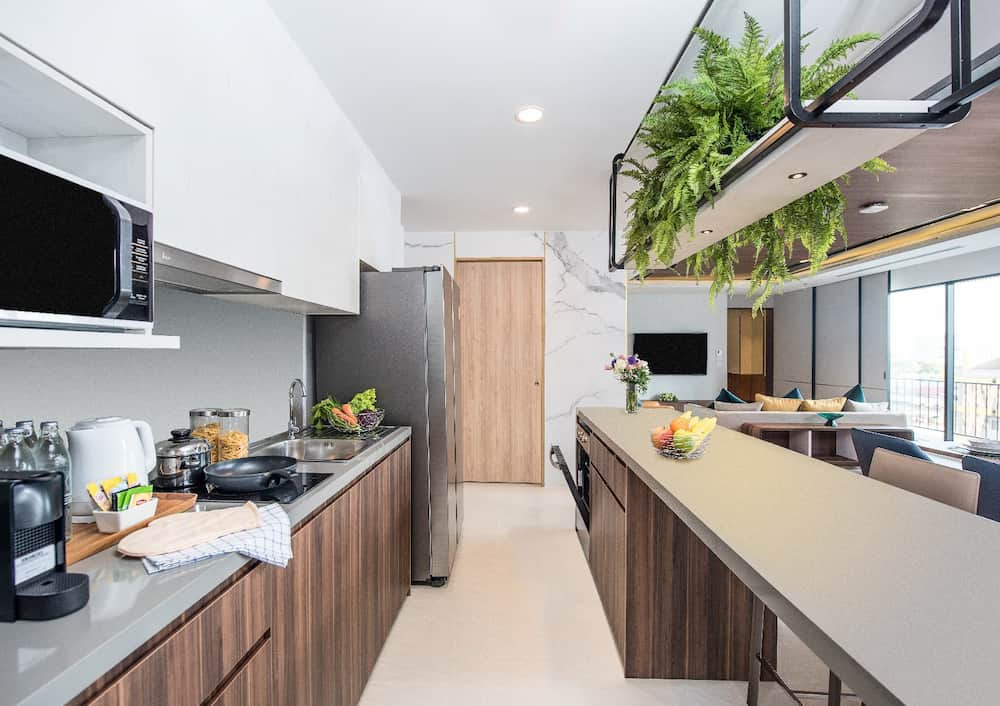 When it comes to choosing a hotel for a family, Amanta Hotel & Residence Sathorn stands out with its thoughtful offerings, including spacious two and three-bedroom hotel suites designed to cater to families' needs. Our family suite options not only provide ample space but also feature a convenient kitchenette, laundry facilities and a spacious living area. With separate rooms, both parents and kids can enjoy their privacy while having plenty of space to play and relax in comfort. The Scandinavian design of our rooms adds a touch of modern elegance, featuring bright natural tones, contrasting textures, and vibrant accents that create an atmosphere of comfort, warmth, and style. Families can select from two-bedroom deluxe suites or two and three-bedroom executive suites, ensuring that there's the perfect accommodation option for families of various sizes.
Amenities
At Amanta, our amenities are designed to enhance the family experience. Guests can enjoy free Wi-Fi, a complimentary breakfast, and the convenience of a 24-hour front desk for any assistance required. For those moments when adults need a quiet space to catch up on work, our co-working and dining spaces offer a comfortable environment.
Families can also take advantage of luggage storage facilities, especially useful if they decide to explore beyond Bangkok before departing. Our hotel also offers a car park for those traveling by car, and for those who want to stay active, there's a fitness center and a swimming pool where everyone can enjoy a refreshing dip. When you choose to stay at our family suites in our hotel at Sathorn, we ensure that every aspect of your family vacation is met with comfort, convenience, and a touch of luxury.
Complimentary Stay for Children
Choosing a hotel for your family is a decision that requires careful consideration, and at Amanta, we recognize the unique needs of families. Our hotel offers a complimentary stay for children aged two years or younger, making us an excellent choice for families with young children. This guarantees that your family vacation is not only memorable but also budget-friendly and hassle-free.
Proximity to Lumpini Park
Located a short walk away from Lumpini Park, staying at our hotel's spacious family suites in Sathorn provides an excellent opportunity for kids to spend time outdoors. The park offers various recreational activities, including playgrounds, paddle boats, and open spaces for picnics. This proximity to nature adds an extra layer of enjoyment to your family vacation.
Convenient Shuttle Services
When it comes to choosing a hotel for the family vacation, Amanta truly goes above and beyond to ensure a seamless and convenient stay for you and your loved ones. Our hotel offers shuttle services that provide easy access to nearby attractions, shopping areas, and public transportation hubs. This invaluable service eliminates the stress of navigating unfamiliar areas, making it effortless for your family to explore the city and its wonders with absolute ease.
Book Your Stay Today
With a focus on comfort, convenience, and entertainment, Amanta ensures families a memorable stay that caters to every need. Book your stay at Amanta today and create lasting memories with your loved ones