Book a Hotel Near Lumpini MRT Station
Where you book your hotel matters a great deal when you visit Bangkok. Traveling with your whole family should be fun and educational, so you don't want to spend your entire holiday sitting in traffic. That's why when you stay in the Sathorn area of the city, you should book a hotel near the Lumpini MRT Station.
Bangkok has three rapid transit rail systems, the MRT, the BTS Skytrain, and the Airport Express, and they're all interconnected. By taking advantage of all of them, your family can avoid spending time stuck in traffic. They have stations near all the popular attractions in Bangkok, and they offer quick, inexpensive and air-conditioned travel throughout the city that's utilized by most of its residents. They're just the thing for moving a large family around the city without the hassle of dealing with taxis, traffic or parking.
Different Attractions for Parents and Kids
with shopping malls boasting the most well-known international brands, as well as home-grown brands and stores that will pique any dedicated shopper's interest.
You can reach the Sukhumvit Road area by taking the MRT to the Sukhumvit stop and then transferring to the BTS Skytrain, which runs the length of the shopping area of the road. Sukhumvit Road is also home to some of the city's best restaurants and is well worth spending at least a day exploring.
Offer Your Kids a Destination of Their Own – Chatuchak Park
But while your kids may be interested in shopping too, the younger they are, the faster they are likely to get bored and tired of visiting shop after shop. To give your kids a treat, make a deal with them to spend the morning shopping and the afternoon at a surprise destination.
Chatuchak Park is one of the largest city parks in Bangkok. It's also a magnet for kids. This spacious park is full of manicured lawns, beautiful mature tropical trees, and a large lake where the kids can rent paddle boats. It's also home to two special attractions built with the younger members of the city in mind.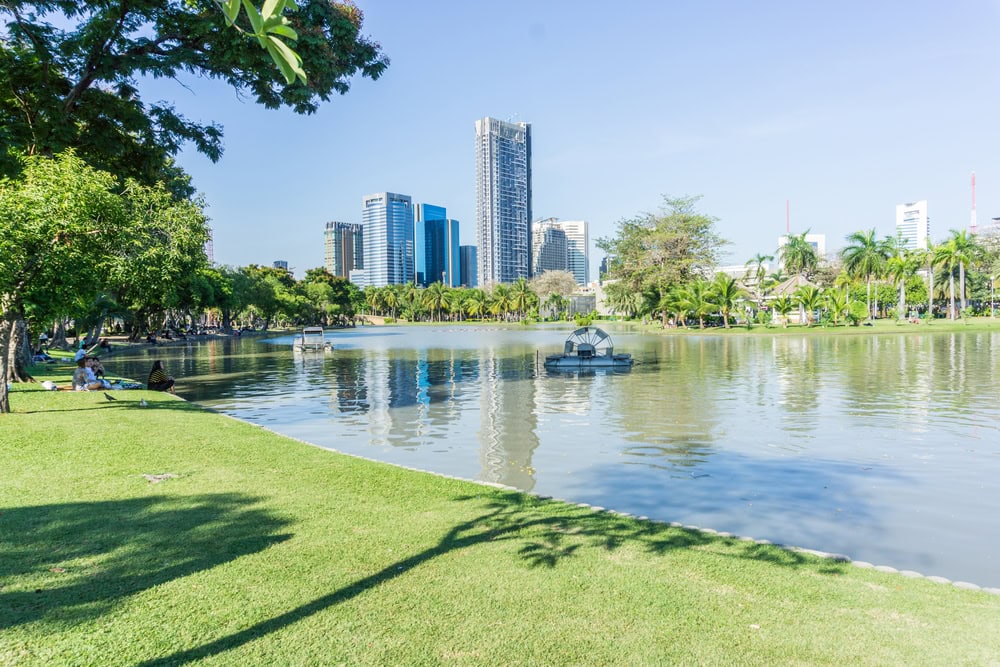 Children's Discovery Museum
Your kids will forever remember their trip to Bangkok when you take them to the Children's Discovery Museum. The museum has plenty to offer for an afternoon of fun, exercise and education.
Located in Queen Sirikit Park, right next to Chatuchak Park, the museum comprises two buildings: the Tho Tawan and Rainbow buildings. Plus you'll find a large outdoor playground with some water features they can play and cool off in, so be sure and pack their swimsuits. The outdoor area also has a Forest Adventure wooded area where your kids can learn different facts about the natural world.
The two multi-story buildings hold plenty of interactive, colorful exhibits where your kids can play while learning about different topics. They can try their hand at different art projects, invent useful things, learn about dinosaurs, explore their hidden talents in the mini-theater, or design and build a mini-city. There is also a snack bar with healthy food available and an extensive library with plenty of books in both Thai and English.
Your kids may ask you for a return visit to the Children's Discovery Museum the next day, as there is so much to see and do. And they still need time to check out the next attraction in the park.
Bangkok Butterfly Garden and Insectarium
Near the Children's Discovery Museum in Chatuchak Park is another attraction that will have the nature-loving members of your family oohing and aahing and squealing in delight. The Bangkok Butterfly Garden and Insectarium features thousands of live butterflies and insects that are all housed in a spacious, tall indoor enclosure containing ferns, wildflowers, rock gardens, and a running waterfall. It's all designed to offer a home to the hundreds of species they have housed there.
The garden features butterflies such as the Golden Birdwing, the Giant Silkworm, and the Siam Tree Nymph within their collection. But not all of the species are visible at all times. They all have different gestational cycles, and it's best to give the museum a call before visiting to find out which species can be seen. Kids who are excited to see exotic butterflies and insects can end up spending hours walking the covered trail within the butterfly garden and gazing up into the foliage.When you book a hotel near the Lumpini MRT station, you have the option of dividing up your holiday in Bangkok to visit attractions that cater to kids exclusively. Your children will appreciate the extra attention as well as the attractions. They'll also then be happier to accompany parents on visits to temples and cultural exhibits. By seeking out kids' activities, the whole family will enjoy their visit to the exciting metropolis of Bangkok.