Bangkok has some of the largest and most diverse shopping malls in the world. They offer a whole range of products, from high-end brands to handmade products that make perfect souvenirs for family and friends back home. Staying in Amanta Hotel & Residence in Ratchada offers convenient transport options so you can easily access all the great places in the city for shopping.
Shopping Malls Near Amanta Hotel & Residence Ratchada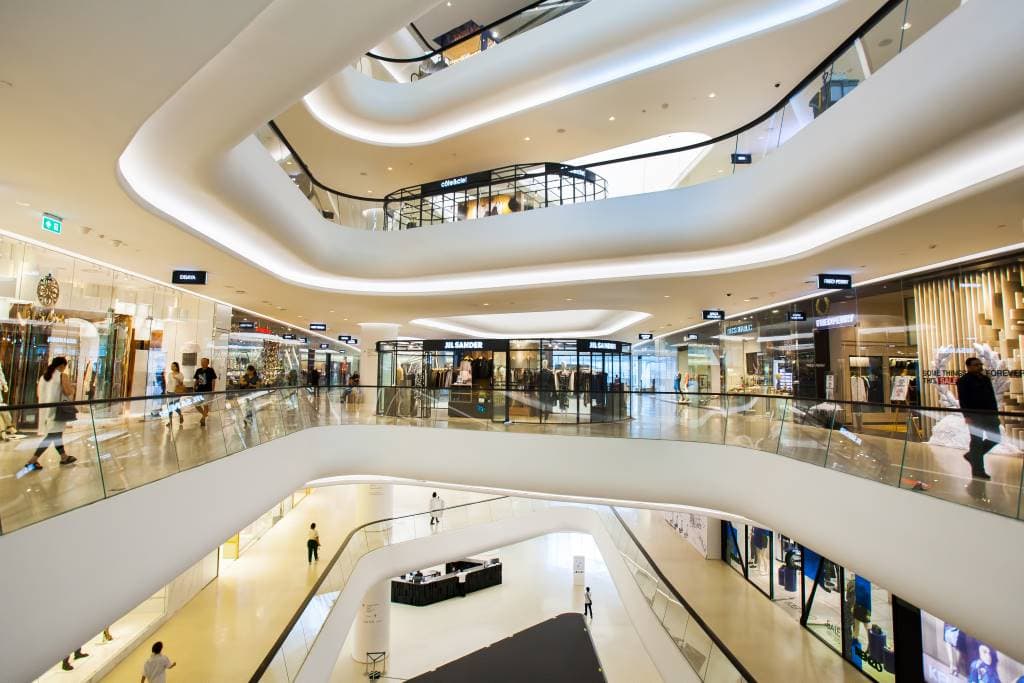 There's an array of shopping malls in Ratchada for you to choose from that are all wonderfully close to our hotel. Here's a guide to some of the best shopping malls near Amanta Hotel & Residence Ratchada:
The Esplanade
Distance: 0.4 kilometers
Opening hours: 10 AM – 10 PM
This mall is the closest to our hotel and can be reached in a scant five minutes on foot. The mall's unique architecture gives the impression of being on a spaceship. You'll find a slew of stores that sell sports equipment, ladies' apparel, and electronics. And, if you'd like, you can also indulge in a beauty treatment, as there are a number of cosmetic clinics that offer a range of beauty services by qualified aesthetic doctors.
For the foodies, you can choose from a wide variety. The mall has everything from a simple food court to premium shabu-shabu eateries, plus many cafes in the basement where you can unwind after a day of shopping or just get some work done.
The Street Ratchada
Distance: 0.9 kilometers
Opening hours: 11 AM – 10 PM
The Street Ratchada is unique in that it combines a regular shopping mall with a night market. This trendy shopping mall has a number of stores dedicated to clothing and sports equipment. There are also a few restaurants for you to grab a bite to eat.
The basement is home to a premium supermarket with many imported brands where you can pick up some home-comforts. Outside, the night market offers up the sights and smells of a typical night market in Bangkok, so if you're short on time, this is the best place to do some shopping and experience the wonderful street food that Bangkok has to offer.
Fortune Town
Distance: 1.0 kilometer
Opening hours: 10 AM – 8 PM
If you want to pick up some electronics or gadgets, this is the place for you. Just 13 minutes from our hotel, this mall harbors a range of stores dedicated to offering the latest electronic gadgets. The perk of having so many electronic stores together in one place is that prices are very competitive, and you'll find it easier to negotiate. The mall also has several shops dedicated to mobile phone repairs that offer quick and affordable repair services.
Central Rama 9
Distance: 1.2 kilometers
Opening hours: 10 AM – 10 PM
Just 15 minutes away on foot, Central Rama 9 is a large shopping mall that offers a variety of products and services. Whether you are looking for a nice restaurant, shops, or mobile phone services, this mall will cater to your needs. There's even a cineplex on the top floor. And if you'd like to grab some groceries, there's a supermarket in the basement that is well-stocked with both imported and domestic products.
Terminal 21
Distance: 3.5 kilometers
Opening hours: 10 AM – 10 PM
This mall is unique because it is designed like an airport, and incorporates the features of different cities around the world, including Tokyo, London, and Istanbul. The mall is a popular destination for tourists because of its many stores selling products ranging from fashion, beauty, and lifestyle to electronics. There's also a cinema and food court, making it a popular hangout spot for locals and tourists alike.
CentralWorld
Distance: 4.8 kilometers
Opening hours: 10 AM – 10 PM
CentralWorld is one of the largest shopping malls in Bangkok and is just 25 minutes away from our hotel. The mall has an impressive cinema, large food court and many restaurants to choose from. You can easily spend an entire day exploring CentralWorld!
As you can see, when you stay at Amanta Hotel & Residence Ratchada, you will have easy access to several places for shopping. On top of that, our hotel's proximity to the BTS and MRT stations means you can easily travel to any other part of Bangkok to explore other areas. Book a stay with us today and experience all that Bangkok has to offer!